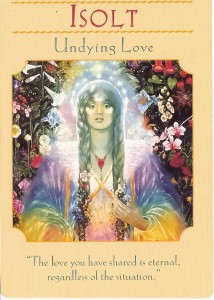 The following was a channeled message this I recently received.  It is so beautiful and so loving and it came at just the divine time.
Counseled Wisdom from the Goddess Isolt for Lisa Lyle July 19, 2012
I am the Goddess Isolt and I am answering this question for Lisa from my Heart's Truth and Wisdom and the Highest Love and Light of the Creator. Blessings. ♥ Lisa: "Daina, as always I just prefer to allow spirit to guide the way……..no question just whatever comes from them to me is gratefully appreciated xo"
Beloved One, we say to you, Ascended Master Lisa, child of God the Creator that you are, so bright and shining in your brilliance, ascending ever, ever further on your path, my child, ever further and greatly growing on your path, reaching far and wide through the landscapes and horizons to touch many individuals beyond this Heavenly Earth plane. Beyond this world your Light reaches and touches souls across the other dimensions that lie around you. In the same time and dimension, there are many different levels of existence coinciding, many different planes and your Light, my child, reaches all the multiple layers that arise and exist in the world. Like stacks and stacks of shelves at a library, waves and waves and trove and troves, this is the multiple layers of your existence and you are reaching in now, into the deep thick of the library's books. You are reaching in to uncover your own Divine Inner Wisdom, child. You have discovered many books about many of your lives, who you are and your guides, my child. You have discovered many secrets and the knowledge that is call Esoteric Wisdom. You have done well, my child and keep reaching further and further and deeper and deeper you go into this well of wisdom, the great archaic library that is set before you. Amongst the shelves and books you sit, forever absorbed in the Eternal Knowledge of the world, the universe and the Creator, and the stars. Oh the stars, my child! How they shine so brightly brilliantly for you and with great love they beam down their own Light onto you, so that you may absorb their radiant magic, my child and cherish in the afterglow that it is they offer, dear one. So bright and brilliant you are, so magnificent, wise and noble, so greatly rich in your heritage, Wise One, rich with guidance, Beloved One and a great many guides around you, helping you on your path, from many different realms, many, child. Much beyond the Earth realm come to you in your days and nights and teach you as you dream, meditate or in waking state, even when you are not quite aware of your learning, my child, you are actually learning on another level of your being, for your guides are with you daily to encourage you and keep you on the path, walking it, brightly shining on it as you do, my dear one and so we say, all your guides have come to Us this day to speak to you, for they wish to tell you, dear angel, child of God, Lisa that you are, that they Love you. They are most proud of you for all that you have done, all that you teach, all that you are, their bright, brilliant, wise Goddess of Light that you are, great Goddess of Light, so bright, shining like the Sun does. So bright, brilliant and as wide as the Sun your wealth of wisdom and knowledge is, as great or by chance I say, greater than the Sun, my child! It is ever-expanding and can swallow up another's darkness in an instant. That is your Light, my child, your Light, your wisdom, your heart. It is so bright, so strong and so powerful, dear one, that it can actually swallow another's darkness and allow it to be reborn and made anew, whole again, indeed and this is the blessing you offer them, the others in your life that seek your guidance, aid and counsel, my sweet one, the blessing indeed. And what a beautiful child you are, we can see you laughing now, playing among the fields and flowers all around your house, twirling in green grass and looking up at the sky, blessing the Earth Goddess, the Mother Goddess, the radiant Sun Goddess, blessing and bowing to All That Is Divine within you and others. So peaceful you are, so blessed and holy and nurturing you are and to your son, dear one, my, what a special child he is, isn't he? So radiant and burning up like the same Sun you are, burning up with brightness we mean, sparklers here, like fireworks and sparklers, this is him, a bright spark amongst the darkness, foraging a new way, a new path for others. This is him, my dear one, this is him. This is what he is here to do, to forage a path, to be a bright spark and what a proud Mother Goddess you are, as you have suspected and noted such gifts in your young one. How beautiful a blessing, my child, how beautiful a blessing and yes, dear one, Uncle Reg thinks of you often for he loves you too and is with you often, dear one, as well as your Bampy, dear one. A lot of family members, although they may have passed over are strongly with you for they are simply watching you and so proud, glowing in love and radiance at the bright Light that you are. So bright and wonderful you are, so bright and wonderful you are. Blessed Be, dear child, Blessed Be. Keep shining your beautiful, brilliant Light, Lisa. We expect much more to come in the days ahead. Much more growth, much more depth of wisdom, much more channeling, much more healing. There is great growth and prosperity and abundance of wealth and love in the days to come, my dear Lisa and for that, we are most proud of you. All that you do, you do it for God, you to do it for your Source Creator, you do it for the Divine, you do it in Service, Lisa, Service and that is what it is all about, Divine Service to the Creator, Divine Love and Divine Light. You are so Divine, my child, so Divine indeed and we Love you. So eternally grateful we are to you, my child, for your Divine Service here on this plane, eternally grateful we are to you, Blessed One. Namaste, my child, Namaste. We Love you so. Namaste. Blessings Be, dear one, dear Lisa, Blessings Be. Namaste. With Great Love, the Divine Goddess Isolt as well as Her Guides, Angels and Ascended Masters offering Counsel and Wisdom to you this day, so you may further ascend on your path. Namaste. Blessings Be. Namaste. With Love, the Great Goddess Isolt. Namaste.