This week one of our cards in the weekly Intuitive reading come from the Archangel Michael Oracle cards, by Doreen Virtue http://www.amazon.ca/Archangel-Michael-Oracle-Cards-Guidebook/dp/1401922732
Below is the intuitive message that I picked up from this card….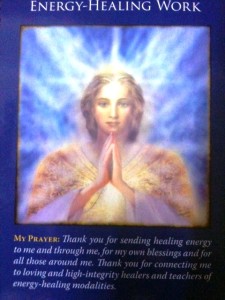 Our card is ENERGY HEALING WORK – What amazing energy from this card!!  There is a great call to all of us right now, to do the work we must in order to fulfill our DIVINE LIFE PURPOSE.  We are all being guided to Healers, Spiritual Teachers and Lightworkers that may help us with this process.  It is also important, to note that having a healing done on you is not a quick fix.  For most this process is, a many layered one, that takes a great deal of courage, strength and a willingness to change.  Healers and Spiritual Teachers can help provide us with information that will help us to take the necessary action steps we must in order to help facilitate our own healing.  We all have work to do and would be naive to think that a healer could do it all for us.  Remember a Healer is but a channel of Universal Energy, available to all of us.  When looking for a Healer, it is important that you find one who operates from a healed and honoured heart.  We have a gift and it is important that we remember this.  Divine gifts are not meant to be abused or to be used for entertainment purposes.  This is a sacred gift we have been given and we must not take it lightly.  Integrity, Compassion, Love, Honesty are important things to look for in a healer.  Someone, who you feel is walking the walk.  Someone who has done their own work and someone who understands that this work is ongoing.  Continually evolving.  As a Healer myself, I am continually looking within.  My work is ongoing and a constant source of lessons of love and acceptance.  I too am learning and evolving as Spirit see fit.  It is up to me to remain open and teachable so that I may better serve God, as it is from this source that my gifts have come.  Remember friends not all healers, are the same and it is very important to find someone who leads by example from a loving and compassion, most honoured heart.  Healers that claim to be able to heal you, with little or no assistance from you….my advice is to run the other way.  This is not a true statement.  WE ALL MUST DO OUR OWN WORK.  Healers and Spiritual Teachers, offer us the gift of insights and tools that we may use to help us to learn the lessons we are here to learn.  The only way to get out of pain, is to walk through it.
AA Michael Prayer of the day – Thank you for sending healing energy to me and through me, for my own blessing and for all those around me.  Thank you for connecting me to loving and high integrity healers and teachers of energy healing modalities.