Crystal of the Week – Amethyst
Amethyst – Is an extremely powerful and protective stone with a high spiritual vibration. It guards against psychic attacks and blocks negative energies, transmuting the energies into love. An excellent stone for cleansing and healing and helps the wearer to overcome addictions, and blocks of all kinds. Amethyst is excellent when used in meditation and can help the user to feel less scattered and more focused. Helpful for insomnia caused by an overactive mind (monkey brain, as I like to call it). Helps to balance out emotional highs and lows, promoting emotional stability. It dispels anger, rage, fear and anxiety. This was one of the first stone I worked with and I still use it today.
INTUITIVE MESSAGE – You are healing via your connection to the Earth.  Feel it, believe it and just do it!!!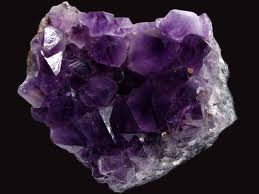 Message from the guidebook –
#54 – AMETHYST – Masculine – Sixth Chakra – Purple – Earth
I AM Amethyst.  I AM the healer stone.  I energize stones, crystals, and people by attracting positive forces while repelling and removing negative energies.  I AM here to tell you to take charge of your own thoughts, follow visions, be who you are, walk your talk.  I AM the stone of the higher self, new spiritual awakenings, the unlimited power of knowledge through inner journeys and intuitive perceptions.  You need to see beyond and look for the best, not the most practical.  I AM grounding and stabilization that soothes emotions.  I AM purification.
This message from from the Guidebook is from the Shaman Wisdom Oracle deck by Leita Richesson http://www.amazon.com/Shaman-Wisdom-Cards-Tarot/dp/1572811234