Working with the Keepers of the Light Oracle by Kyle Gray, I asked for a clear message from the Keepers of Highest Light supporting our transition through Venus Retrograde <3. Without hesitation this beautiful keeper appeared…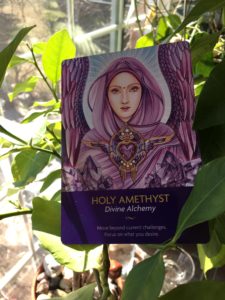 HOLY LADY AMETHYST – DIVINE ALCHEMY <3
WOW!! Holy Lady Amethyst is the Supreme Divine Feminine energy of the HIGHEST LIGHT. She is a High Priestess of ALL that is Divine and right. She wants you to know that you too are this Sacred High Light energy. She wants you to remember that you are one with SHE <3. This message holds a doubly powerful meaning as she is the Divine Keeper of the Light who also graces the cover of the box this deck comes in, as well as, the guidebook. The call of the SACRED SOUL went out to each of us quite some time ago, and NOW THE CALL IS ONE OF COMING HOME. WITHIN is the home we are called to return too.
At this time of Venus, the planet of LOVE retrogrades through 13 degrees Aries and back to 26 degrees Pisces. I AM feeling the big message of LOVE here is one of anchoring our fiery passion with the depth of our emotions. During this time, we are going to be taught to LOVE ourselves (if we allow), in more expansive / inclusive ways. We will be called to be courageous as we continue to make shifts and changes in our daily focus. Manifestation of ALL flows from the realm of thoughts. POSITIVE thoughts and talk will greatly support you. In fact, this loving act will support you in returning to the inner HOME centre <3.
ALL that you desire begins as a seed WITHIN your heart. In order to grow and flourish, seeds must be tended too, watered, nurtured, attention and LOVING energy given too, as the wee seed transitions to LIFE.
WE ARE NOW TRANSITIONING and CHOICE and DECISIONS are KEY.
You make them or you don't yet important to note is that either way, RESPONSIBILITY is necessary. YOU / WE ARE RESPONSIBLE FOR OUR HEARTS.
Amethyst is known as the stone of healing addictions and for those of us here NOW WE HAVE HAD MANY. Some still do. We have been conditioned for addiction and NOW WE CLEAR. As we clear ourselves of the conditioned addictions we indulge in…
WE BECOME MORE CLEAR CHANNELS OF HIGHEST LIGHT <3.
So many dear Souls hold on to the familiar. Yet how comfortable when you tune WITHIN has the familiar been? How has it nurtured and supported your growth and the seeds of your dreams? Only you can answer these questions and in fact you already KNOW your answers, even if you believe you don't.
TRUTH and the answers you seek will only BE found WITHIN you. You are supported NOW to return home to ALL that is TRUE for you. Own it, love it, hug it and nurture your TRUTH. Especially those parts, you have rejected, disowned, labeled as "good, bad, or otherwise" LOVE ALL OF YOU, because in TRUTH YOU ARE NOW AND ALWAYS HAVE BEEN A SEED OF CREATORS LOVE. You / WE came to Mother Earth to plant and anchor OUR HOLY LIGHT.
You are supported NOW and ALWAYS, to move beyond conditioned LOVE and settle into the HOLY TRUTH that CREATORS LOVE IS WITHOUT CONDITION. CREATOR / SOURCE / GOD'S LOVE is offered to you NOW FROM WITHIN.
Can you receive this Sacred Unconditional Offering? Again beautiful SOUL the choice is yours and yours alone. Yet it is also important to note that you are supported by a host of seen and unseen energy.
TRUST YOUR HEART and FOLLOW the guidance of each NOW moment. Know that you are NOW through unconditional LOVE encouraged to move beyond current circumstances and FOCUS ON WHAT YOU TRULY DESIRE in order to MANIFEST TO LIFE / LIGHT the seeds of your SACRED HEART DREAMS.
Working closely with Holy Lady Amethyst I feel my ever present guide AA Metatron as well as the wizardly magical Merlin <3.
Crow and Owl also come through as guides at this time.
BREATHE, RELEASE, BREATHE, RELEASE and JOYFULLY LOVE LIVING YOUR DREAM – NOW is the only NOW that matters ETERNALLY <3.
Sending so much Love, Light, Respect and Gratitude, Lisa and her LIGHT Crew <3
On a side note, one of my favourite little Spiritual guidebooks of all time was the story of the ALCHEMIST by Paulo Coelho. If you haven't yet read it (very easy quick read) do yourself and favour and get it. You will not be disappointed.