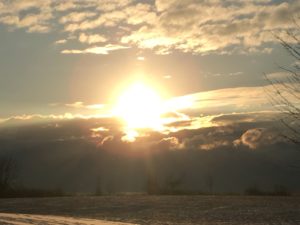 Bright Shining SOULS, I can hardly believe it has been 5 or 6 months since I have connected here. So I suppose it would be the appropriate time to send you NEW YEAR / YOU BLESSINGS of LOVE and LIGHT. Thank you for BEing here upon Mother Earth NOW. You are the SOUL SYSTEM (WITHIN) that WE have been waiting for. By WE, I mean us. ALL OF US who have felt a call for something greater, something more than what we have known and experienced in this physical form.
Truth about us you see, is we are beyond form. Always have been, eternally will BE. Isn't that awe inspiring, really? When you think about that, WE ARE ETERNAL. Beyond and WITHIN our physical body is OUR ETERNAL SOUL. Awesome stuff, WE ARE, magical pixie/stardust BEings, I believe. Do you? If you do, believe in YOU! NOW is a time for action. For it is action that makes manifest DREAMS. Do you believe? It is time, time for loving belief in thyself.
That BEing said, with OUR most recent New Moon in Aquarius, which also ushered in the Lunar New Year, Chinese year of the Fire Rooster.  NOW is a call to action. No longer is it enough for you to contemplate and ponder your DREAMS.  NOW you must take action in the direction of, the birth of the DREAM through you. As a part of this call to action, I have been guided to come out of my shell/cave/closet and share. Share the TRUTH that flows from deep WITHIN. TRUTH that has always been there, as an extension in this physical vessel of my, ETERNAL SOUL. Eternal SOUL as connected to OUR CREATOR, SOURCE ENERGY, THE SPARK from which ALL LIFE GROWS. Flows.
Part of coming out and into action, I have committed to myself to write daily,  as a life long dream of mine has been to be a published author. So far I have written 4 times, in as many days. So far so good. How about you? What can you commit too that will support putting your DREAMS into motion? When it comes down to it, this commitment flows from LOVE. Love of self, which is NOW your/OUR priority. Time to focus on the TRUTH of ALL that matters, and ALL that matters is each and every one of US. There are no exceptions to this TRUTH. Only fools believe there to be. Only fools and fools we aren't.  Nope, it is NOW time for ALL SOVEREIGN BEings of LIGHT, born to Mother Earth with DIVINE BIRTHRIGHTS to RISE and SHINE. That means ALL of US. For there is no one alive here and NOW that has more value, worth or privilege than YOU.  And most certainly has no more INNER POWER than you.  Activate from WITHIN.  Allow your ETERNAL SOUL to guide.  Trust me when I say, this is a win, win for YOU.  FOR US.  FOR ALL LIFE UPON MOTHER EARTH.
My intention throughout February is to share on a daily basis the inspiration, wisdom and guidance that easily flows through. I say easily, with the footnote that when I allow, all flows easy. You see we are the catalyst for lasting and profound, enlightened change that is NOW taking place upon our home Mother Earth. You would be foolish and possibly blind to not see, that nothing is as, it once seemed, including YOU. No part of this planet is immune to DIVINE BIRTHRIGHT. No part of this planet is more important than another.  This is TRUTH. OUR SHARED TRUTH. Does that feel right to you? How does that make you feel? Answer if you are guided, from your heart. You head will lie to you, and justify, from a conditioned stance/belief, yet your heart is the ETERNAL MOTHERBOARD of the WISDOM OF CREATION/CREATOR/SOURCE.
This is a time of planetary reset and each of us are important spokes within the wheel of LIFE.  The EVOLUTIONARY JOURNEY OF THE SOUL begins WITHIN each of us. Will you rise to the call of your SOUL from WITHIN? What ACTION can you take today to support the manifestation of YOUR DREAMS. OUR DREAM…ONE HEART, ONE HOME, ONE LIGHT.  You got this, this is what you came here for.  NOW IS YOUR TIME – RISE FROM WITHIN AND SHINE!! xo
If you have spiritual subject or any question with respect to walking the spiritual path, please do connect with me and ask. I AM here to serve the greatest and highest good of ALL and I AM here to support you. As I do, I too am supported and nurtured by LOVE. Thank you for BEing here NOW, DIVINE human. I LOVE YOU – WE ARE ONE.
Sending Love and Gratitude, Lisa xo
The attached image was taken by me on 2/1/2017