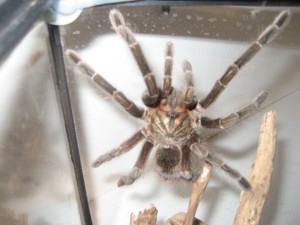 In honour of Halloween, I thought I would share with you and image of one of my husband's critters.  This guy shares our bedroom with us.  Not to mention that there are 5 others that share that space as well. If you would have told me a couple of years ago that I would own 7 tarantulas, 3 scorpians and 3 White's tree frogs, I would have told you, you were crazy.  Ahh, the things we do for love.  Pure eternal unconditonal love….there is nothing else quite like it.  Love and accepted warts and all.  It is a beautiful things and brings much healing to those who experience it.  My life is blessed, so blessed indeed.
Of course in our room, we also have our fair share of rocks and crystals, with us as well and I have no doubt my crystals help me to feel better about sharing space with this guy and his friends.
Looking forward to seeing all the little goblins and ghouls out tonight, and walking the streets with my little zombie doctor.