HAPPY NEW ABUNDANT YEAR.  HAPPY NEW CREATIVE ABUNDANT YOU!!
EMPOWERING MESSAGES FOR YOU,
Please take a moment to ground yourself. Plant your feet on the ground, spine long and straight, breathe in deep. If you have a question silently ask it within your heart space and as you continue to breathe long and slow and deep.  Gaze at the picture below and allow yourself to be guided by your wise heart space to the  allow the card that has a message for you.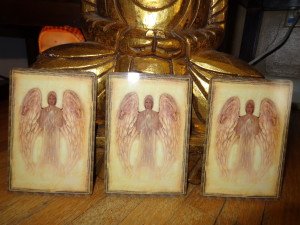 MAGICAL REVEALS <3
If you were guided to the LEFT CARD, here is your message of LOVE <3
I feel strongly guided to say to you, please know you are surrounded and I mean SURROUNDED on ALL sides, ABOVE, BELOW by ANGELS.  WE ALL ARE, THIS IS OUR TRUTH.   Feel them.  Talk to them, for they are your friends and wait for you to reach out.  Seek them, speak to them through your heart space.  Know that they hear you and LOVE you.  TRUST.  They support you and your MISSION here upon MOTHER EARTH at this time.
NOW, for your card…….
ANGEL OF SPACE CLEARING <3
Out with the old, in with the NEW.  Abundance is the new you, true blue.  AA Michael walks with you.  He walks with ALL of us.  He supports the MASSES, LEGIONS, if you will of those who have come here in service to the GREATEST and HIGHEST good of humankind.  For those of us who work closely with him.  This includes you, there is much he asks that we do…..RELEASE, LET GO, CLEAR OUT, CLEAR WITHIN…..seriously it feels as if the work will never end.  And TRUTH is it likely won't.  So why not shift and do the work that you LOVE?  Why not is a very good question.  Why do we humans like to hold on so tightly to so much?  What we hold onto does not matter….thoughts, emotions, material stuff, gadgets, whatever.  We all have stuff, and yet the beauty is OUR PURPOSE is really SIMPLE.  Less is more, speaks a lot of TRUTH.  Find the TRUTH WITHIN YOU, and focus only on the "stuff" that supports you in BEING MORE TRUE BLUE TO YOU.  Everything else flows from there.  Please know the ANGELS only want for us each to be HAPPY, JOYFUL and LIFE FREELY.  So that dear friends, be the focus of your inner work.  Clearing away, all that leaves you feeling drained, depleted and unhappy because it is never about anything outside of ourselves.   A Master knows that and therefore own that responsibility, from WITHIN.
Also feeling there is expansion, releasing and healing taking place WITHIN your third eye.  Your physical eyes will be the avenue of release.  Simply Breathe, feel, release, heal….GROW.
With Love, Lisa
Guidebook message…..
Time to clear old negative thoughts and feelings.
The Angel of Space Clearing has shown up in your reading today to help you negative thought patterns and feelings which have surfaced recently as a result of your dwelling on past mistakes and regrets.  These unconstructive thoughts and feelings are the primary source of stress in your life at present.  Not only are they causing you to feel confused, they are also preventing positive new energies from entering your life.
Close your eyes and feel the loving presence of the beautiful angel who is here to help you clear and heal all these unwanted thoughts and emotions.  Imagine yourself being showered with light.
Imagine a beam of rainbow coloured light penetrating your heart while another beam of rainbow light penetrates your mind.  Feel your thoughts and perceptions begin to relax and your emotions becoming clear, calm and balanced.  Now give thanks to God and your angel for this wonderful healing.
If you were guided to the MIDDLE card, here is your message….
FORGIVE, is the word that comes strongly to my heart mind as I connect with this card for you.  FORGIVENESS is most effective when offered to self, through self and through our abiding ETERNAL connection to GOD.  CREATOR.  GREAT MYSTERY.  SOURCE.  Take your pick for it does not matter which word you choose to identify this ESSENCE.  IT IS ONE.  WE ARE ONE.  ALL IF HEALED AND FORGIVEN IN THIS MOMENT, THROUGH GOD'S LOVE AND LIGHT.  This is the stuff we are all made up of.  ANGEL DUST, in human form.  YOU ARE BEAUTIFUL, TIME TO FOCUS ON LOVING YOU.  ALL OF YOU……yes, warts and ALL. Witches have warts, right?  wink, wink.  SHINE ON, and WITHIN <3.  YOU ARE STRONG AND YOU GOT THIS.
NOW, for your card…..
GOD OF THE UNDERWORLD <3
Are you scared?  Oh dear, don't be a afraid, for it is only your shadow dancing in the LIGHT that you see. Now why so afraid of your shadow dear one, for it is only parts of the beautiful WHOLE that, you were born to be.  Well actually some of the shadows dear ones, have been imposed upon you from very early days.  Back when you were young and those around where trying to guide you by placing you into the tidy, proper little box they were so beautiful packaged in.  Again from a very young age.  This friends, is not a judgement, it is simply stating the TRUTH of OUR TIME.  YET THE BRIGHTER MORE EXCITING TRUTH IS WE WERE EACH BORN TO SHINE.  OH YES MY FRIENDS, SHINING IS WHAT WE WERE BORN TO DO.  So please know this card comes to you merely a a beacon, a guide if you will that as your journey deeper WITHIN and take your healing and SPIRITUAL JOURNEY DEEPER.  You are strongly encouraged to release any inner resistance to LOVING AND ACCEPTING ALL OF  YOU.  Once you face that shadow, you will really see, ALL that BEAUTIFUL CHILD REALLY WANTED WAS FOR YOU TO COME OUT AND PLAY.  HAVE SOME FUN, this is the point of our journey.
I feel third eye opening here……anchor and ground that energy down into Mother Earth.  Throat chakra clearing…….chanting, singing and accepting your inner truth support this clearing.  Yelling, screaming etc…..they can too, yet usually while inflicting more wounds.  Choose PEACE.
Feeling strong energy of JESUS with this card.  Important for you to know…..he is your BROTHER.  With Love, Lisa xo
Message from the guidebook…..
Something which no longer serves you is about to end.
Hades, God of Death and the Underworld, has appeared in your reading today to mirror an impending death.  Yet this is not in a physical death, rather it is the death of outmoded ways of thinking, belief systems or emotional patterns that restrict or prevent you from moving towards a more positive and inspiring future.
On a subconscious level you have yearned to rid yourself of these traits which, deep in your heart you know keep you from bbeing and experiencing all you can.  It is difficult to let go fo something so familiar to you, yet you know that in this instance, it is essential that a part of your die in order for you to experience the endless possibilities.  Surrender.  Let go gracefully and trust.
Hades is often brutal in his ways, so you may feel unsettled or out of balance in the coming days.  However, remember that this is all a natural part of the healing process.  this card is not a curse; rather, it is a blessing which has the power to transform your life.  Remember, death and rebirth are two sides of the same coin, you cannot have one occur without the other.  Let go fo the old and make way for something new!!
Guided to say……refer the the message of the LEFT card too.
If you were guided to the RIGHT card, here is your message….
TRUTH, INTEGRITY, UNITY FROM WITHIN YOU.  ANGELS SURROUND YOU IN EVERY MOMENT AND LIGHT THE WAY.  Within you an entire and beautifully complete UNIVERSE RESIDES.  TIME TO FLY BRIGHT ONES, TIME TO LIVE YOUR DREAMS.  THE INFINITE UNIVERSE SUPPORTS YOU.
This cards speaks to me entirely of expansion which radiates outward from your HEART CENTRE.  YOU ARE LOVE.  YOU ARE LIGHT.  You may often be misunderstood, simply because YOU KNOW, WE ARE ONE!!!  Well done, sweet brothers and sisters of the heart, OUR TIME HAS COME.  OUR TRIBE, IS WAKING UP and WELCOMING EACH OTHER HOME……FOR WE KNOW HOME HAS ALWAYS FOR ETERNITY BEEN WITHIN.  It is an honour to connect with the LIGHT OF OUR ONE HEART….OUR COLLECTIVE SOUL.  SHINE ON!!!
Feeling strongly the LOVE of MOTHER EARTH, AA MICHAEL, AA METATRON and the DIVINE MOTHER from this card.  These energies and VESSELS OF LIGHT SUPPORT YOU.  With Love, Lisa xo
Message from the guidebook….
You are being encouraged to expand your thinking.
By choosing this card you are being guided by your angels to look at your life and your work from a broader, more universal perspective.
The angels  congratulate you for all you have done to date to serve and help humanity and those around you.  Yet it is time to move on to the next level.  Trust your angels and the universe for they will guide.  There is no need for anxiety and fear.  You are simply being encouraged to think a little bigger.
Start to imagine yourself and your work reaching and touching larger numbers of people without looking any of the integrity of what you do.  Imagine all this happening with ease and only in ways that will make you feel comfortable.  It takes no more effort to think big than to think small.  There's no need to do anything radical at this time.  Remember, to a large degree, we create our reality by what we think about, dream about and imagine.  SImply think a little bigger and ask the Angel of the UNIVERSE to guide you.
Thank you everyone for participating and please do take a moment or two to LIKE COMMENT AND SHARE these messages.   FEEDBACK IS AN AWESOME FORM OF EXCHANGE HERE.  Thank you.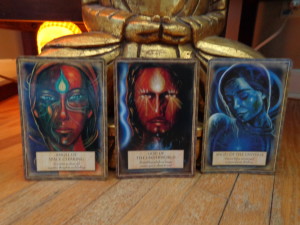 Namaste, Lisa
Images by me of cards from the Angels, Gods and Goddess Oracle by Toni Carmine Salerno
Guidebook messages above noted creator of deck.