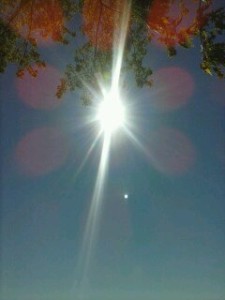 Earlier I was feeling rather sluggish and not very motivated to do much.  There was only one thing I needed to do and that was honour and accept how I was feeling and since I wasn't feeling great, do something about it.  Of course it was clear that I needed to get out and connect with Mother Earth and allow myself to be energized and nurtured by her and Mr. Sun.  Where do I go when I wanna connect?  I head down to my happy place by the lake.  Off I went and within a very short about of time I was feeling better.  More awake, alert and connected.  It was great and a banner day for beach glass (now all I need to do is figure out what to create with it).
As it goes when I am at ONE with ALL LIVING THINGS, I became inspired and I just felt so much love flowing to me and through me.  The waves quickly coming into the shore, soothed my soul. Breathing deep I felt so much PEACE.  I felt so much LOVE.  I AM ONE WITH ALL THAT I SEE.
That brings me to this post which I am guided to share about LOVE.  This is what came through me as I sat down to write……
LOVE HEALS ALL WOUNDS
LOVE BRINGS ABOUT PEACEFUL RESOLUTION
LOVE IS EVOLUTION
LOVE CONQUERS FEAR – LOVE IS SO MUCH STRONGER, IT IS LIGHT
LOVE IS COMPASSIONATE, CREATIVE, KIND
LOVE IS COLOUR BLIND
LOVE IS ETERNAL – IT LIVES ON AND ON
LOVE IN ESSENCE IS THE ONLY THING THAT IS REAL
LOVE, ONLY LOVE HEALS
That is what came through and the message my guides are asking that I share and get across here is that…
LOVE, BEGINS WITHIN EACH AND EVERY HUMAN HEART – THE HOME THIS TIME AROUND OF OUR ETERNAL SOUL.
It is so important that each and every day YOU, yes YOU beautiful Soul, put yourself at the very top of your to-do list.  Don't make excuses about why you can't, take responsibility and commit to you and your healing heart path.  This is the only way….LOVE IS THE ONLY WAY. Turn off your technology and really connect with your SOUL ESSENCE.  Don't remain entangled and caught up in the trap of the human condition.
YOU ARE A SOUL, AN ETERNAL SOUL, WHO WAS GIVEN SOME BEAUTIFUL GIFTS WHEN YOU ARRIVED UPON MOTHER EARTH.
We receive many gifts as Children of the Divine and one of the most beautiful gifts we receive is the give of FREE WILL.  Use it.  Don't allow yourself to be misled and lied to any longer by those who have an agenda.
In TRUTH, I too have an agenda and my agenda is LOVE and EQUALITY.  WE ARE ONE my friends whether or not you choose to accept that or not it is the TRUTH.  It is a GREAT TRUTH in fact.
Our time really has come, to change the course of humanity by remembering the TRUTH of who we ALL are and OUR CONNECTION. Each and every one of us upon the planet right now and those to come are ALL DIVINE CHILDREN OF CREATOR/SOURCE/GREAT MYSTERY/GOD….whatever you choose to call this energy WE ARE ALL CREATED IN LOVE and the likeness of our SOURCE.  Does your life reflect this?  If not, quite possibly time to take a look again…..this time start WITHIN.
So for all those who are reading this just for today, right here and now please…LOVE AND APPROVE OF YOU – YOU MATTER, A LOT!!!  Your heart is a WISE and TRUSTWORTHY GUIDE – Follow it, without delay.
Sending Love, Light, Respect and Gratitude, Namaste, Lisa xo
Image by me