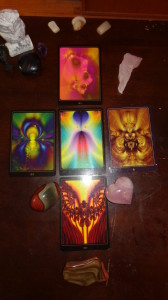 SOUL message reading are intuitive messages delivered through me via the connection of our Higher Selves through our heart connection.
The messages are guided via 5 cards drawn from the Path of the Soul and Divine Guidance deck both by Cheryl Lee Harnish.  I will bring forth intuitive messages that I receive as the cards appear and guide the connection and at the end of it all I will share with you the messages as they appear in the guidebooks.
card 1 – your Soul
card 2 – Guidance/Lessons on the Spiritual
card 3 – Guidance/Lessons on the Physical
card 4 – Energies passing
card 5 – Outcome
These are detailed readings which can take 1 – 3 hours to bring forth.  All messages will be delivered in a pdf document along with the image of your cards.