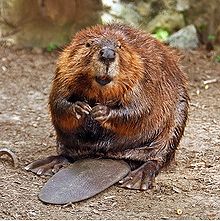 Power Animal of the Week – Beaver – PRODUCTIVENESS
"Go ahead and JUST DO IT."
Ahh, the Beaver, such a Canadian symbol and know to be the builder of dreams.  The beaver can teach us a lot about working with and using our breath to help us along our path.  It is known to be able to stay submerged from up to 15 minutes at a time.   Water is another important message from the beaver….make sure you are drinking enough and make sure you are staying on top of your emotional health, allowing yourself to honour and ride out the waves of your emotions.  Beaver has come to us this week to remind us that we need to act upon our dreams in order to make them a reality.  This is a week of action and getting things done.  Stop making excuses you are only slowing your progress when you do!!
Message from guidebook –
Whatever the project is that you have before you, it's time to get to it.  You think you have to do this or that to get prepared, but you could spend all your time planning and organizing and never get to it.  You already have everything you need – just look around – and what you don't have will come to your as you proceed with your project.  You've spent enough time thinking, talking, planning, and preparing, so don't make it a bigger deal than it is.  Approach it like building a dam – one twig at a time.  No more excuses, and nothing more to do to get ready – and you don't have to do it perfectly!
Plus, you have a lot more support than you think you do.  You not only have friends and family members who will be there, but support from your spiritual allies.  You've given a lot of support to others – even though you tend to downplay your contributions to their lives – and now it's time for your to receive their support.  So take a deep breath and get on with it!
Additional associations:
Enthusiasm, Community, Cooperation, Ingenuity
The image and message from the guidebook are from Dr. Stephen Farmer's Power Animal Oracle cards
http://www.amazon.ca/Power-Animal-Oracle-Cards-Practical/dp/1401905420/ref=sr_1_2?ie=UTF8&qid=1345994013&sr=8-2