POWER ANIMAL OF THE WEEK – WHALE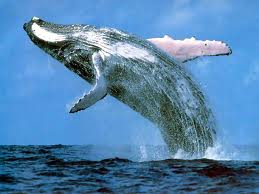 WHALE – SOUL'S PATH – "Honour your soul's purpose"
Intuitive Message – Follow the path of your heart as this is the path of your soul.  You have spent long enough walking away from your inner truth and so now is the time you are asked to bring your actions into alignment with your highest good.  You are not responsible to how others react to your and your path.  However they feel about that is their stuff.  Do not get bogged down in the fear of being true to you because in the end this is all that matters.
Message from guidebook – . It's time to stop fooling yourself and get moving on your soul's path.  Pay close attention to the subtleties of your experience; and listen very, very carefully to those urging that are begging you to honour the deepest truth of who you are – not what you think everyone else will approve of, but the path that heeds the voice of your soul that's been calling to you since before you were born.
Every experience up to this point in your life has shaped you, and even in the lives that you've lived before exert their karmic influence.  At this point, you can no longer live your life driven solely by ego.  Instead, it's important to consciously and consistently attune to your most profound sense of self and align with Spirit's intent.  It will take courage and faith to dive into these depths, but you have indeed funded the power and the strength to do so.  Claim the destiny that you know if yours, and act on it now!
Additional Associations: Migration, Devotion, Communication, Soul Memory
Message from guidebook comes from Dr. Stephen Farmer's Power Animals Oracle deck
http://www.amazon.com/Power-Animal-Oracle-Cards-Practical/dp/1401905420