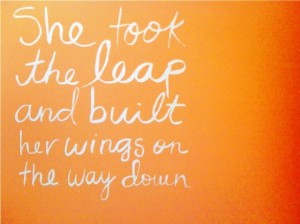 Back in February of this year, I took a huge leap of faith and opened Wisdom of the Heart Intuitive Arts Healing Centre.
Today I am taking another huge leap of faith and going to begin more than just teaching yoga and meditation out of the centre, I am going to begin to follow my passion as an Intuitive Healer and begin to see clients in this space.
Years ago when I first was attuned as a Reiki Master / Teacher, I was seeing clients in my home or theirs.  Life then took a turn and I was no longer able to see clients in my home, so I began after much guidance to send healing distantly, I have experienced much success with distant healing and my clients have felt the benefits within their own lives as well.
Well I am being guided once again to shake things up a bit and shift a little with respect to the work I am doing.  So not only will I be teaching yoga and meditation in my new little space, I will also begin this week to see clients for Reiki and Intuitive Energy Healing as well.  I will also be teaching Reiki 1st, 2nd and 3rd Degree here.  On top of all that I will be doing Intuitive Readings, Mentoring and Crystal Healing,  in person as well.
Following is a price list of the services that effective immediately will be offered at Wisdom of the Heart Intuitive Arts Healing Centre.  These prices are introductory and will be in effect until July 30, 2013 and then will increase slightly.  All services listed below offered both distantly and in person at the Healing Centre, in Ajax, Ontario.  Please note that children also greatly benefit from energy work and are quite open and receptive to this form of healing.
Intuitive Energy Healings – all sessions are recorded
Reiki – $50.00 (1 hour)
          $30.00 (1/2 hour)
          $75.00 (1.5 hour)
Divine Light Healing – $70.00 (1 hour)
Crystal Healing – $60.00 (1 hour), includes 1 crystal chosen for you Intuitively
Reiki Attunements – private and groups
Level 1 & 2 – $250.00
Level 3 – $299
Intuitive Oracle and Angel Card Readings
Elemental Reading (4 cards….Fairy, Gaia, Crystal and Animal) – $35.00
Magdalene Reading (5 cards) – $50.00
12 Month Angel Card Reading (12 cards) – $90.00
Personalized Channeled White Light Infused Crystal Healing Grids
Channeled Mini Grid includes all crystals within it – $33 – $66 depending on crystals used
Personalized Channeled Healing Meditations
20 – 30 minutes – $21
45 – 60 minutes – $42
If you are interested in having Energy Healing and Angel Card Parties I am also open to hosting those as well, either at the Healing Centre or in your home, to book your party or your session with me please send inquires via email to lisalyle11@gmail.com
In person payments are either cash or cheque and for distant work please send payment via Paypal to lisalyle11@gmail.com
This space is also available for use by others, at a very reasonable price so if you are interested in using this beautiful sacred space please let me know.
Sending you all waves and love, light and gratitude, on your adventure as I begin my anew.  Namaste, beautiful Souls, Namaste, Lisa