I was guided today to pull an Archangel Michael card for all the fans of my page.  Today's card Strength/Courage card of the day, reinforces and confirms that the best thing we can do for ourselves at this time is ENERGY – HEALING WORK!! This is our card for today…..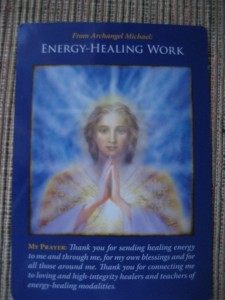 ENERGY – HEALING WORK
Intuitive Message –
You are all healers and please do not ever doubt that.  At this time we are all being guided and asked to focus our time and energy toward healing ourselves.  Working with energy is a very easy way to bring balance back into our physical bodies.  Many at this time are experiences, a slump in and blocks within their energetic bodies.  It is important to tune into this and see if you can feel where these blocks may be.  Within our 7 main chakras, if there is dysfunction in one this affects the entire system.  Deep belly breathing is the easiest way to tune into this and help to get energy flowing again.  Many of the blocks that people are experiencing at this time are within the Solar Plexus (power) and Sacral (emotions) chakras.  Blocks in these areas may manifest as issues with digestion and low back and hip pain.  These manifestations are simply guiding us to the areas in our lives that are in need of healing.  Call on AA Michael as well as AA Raphael today to help you to determine where you are in need of energy healing and ask that they help you with this process.  If you are guided to work with an energy healer, please follow your inner guidance about who is the right healer for you.  Remember not all who are energy workers, are the same.  Trust your own inner knowing and trust that you will be lead to the right energy healer for you.  My feelings about Energy Healers is that the best ones are the ones that help you to come to understand that you too are a Divine healer and someone that is incredibly gifted.  A true healer will help you to unlock the healer within you.
Prayer – Thank you for sending healing energy to me and through me, for my own blessing and for all those around me.  Thank you for connecting me to loving and high integrity healers and teacher of energy healing modalities.  Amen….and so it is.
This card comes from Doreen Virtue's Archangel Michael Oracle cards http://www.amazon.com/Archangel-Michael-Oracle-Cards-Guidebook/dp/1401922732