Today I have been feeling shaky all day, unwell is the world that comes to mind.  After much insistence from my guides, I was resisting that which I knew inside, I spent some time in meditation.  Breathing into the still silent place that always resides within me.   Deep belly breathing is what I did and with each breath I became more and more in touch with my natural peaceful state.  Now for many we will come up with all kinds of creative ways to avoid connecting with this space, because TRUTHFULLY we are afraid of what we might find there.
I can attest to the fact that what we find is TRULY the treasure and peace on Earth that we seek.
After meditation I fed myself, which I haven't been great at doing lately, and am feeling the effects of that neglect.  No judgment, simply and observation of a TRUTH, I see staring at me.  I stare back eyes gazed going but, but…….only if.  My Higher Self, says no way, knock that stuff off.  I eat we come back to PEACE.
Although I have much paid work to do right now, it doesn't feel right for me to "do" without guidance, and that is a struggle for my human self that has been conditioned to time.  My gotta get it done attitude is getting put in its place and the more I concede this side of me to the flow, the more at ease I feel within.
Writing has come back to me and it has always brought me much insight for any situation in my life and has helped me to see the Greater Reality of ALL THAT IS.
When I say, I see you, it is TRUE.  I see and have always seen life from a HIGHER scale, through a wider scope are the words I just heard.  Yet my physical 3D reality has often been wrought with challenges, peppered with pain and many times I have been left feeling as if something was missing, I had been cheated, no one was there for me.  Now again this is not intended to be a judgment about anyone in my life, as I have many wonderful people, I have a great family and my circle of friends, although small is very tight, and of course there are all of you here and my Facebook tribe as well.  Yet still I have not really until recently comes to terms with the WHO, WHAT, WHERE and WHY of it all.
For about 24 hours now I have been hearing….I AM LISA LYLE.  Now that may not mean much to all you all, yet to me these feel like very powerful words.  Not at all in a domineering, I am better than you way.  More in a way of equanimity, you and me are made up of the same stuff.
Right now, I would like you to try out those words, substituting of course your name with mine after the I AM….
How does that feel to you?  How does that sound?  What do those words mean to you?  These are all interesting questions we would find TRUTH to if we asked ourselves and then without judgment were willing to listen to what our heart has to say about those words.  I AM LISA LYLE.
WOW to that statement / affirmation sounds powerful and it makes me feel like it is now time to get on with BEing, LISA LYLE, sharing my messages of LOVE, PEACE, JOY and HOPE for all who are guided my way.  You see my friends, I am really no different than you, we came here on equal and level footing, and along the way, we forgot the TRUTH of who we are.  We forgot this TRUTH individually and Collectively.  Now comes the time for WE all to remember.
I know that when I write sometimes it sounds a bit funny, yet I have always been guided to write exactly as things comes to me.  Much of my writing is done in rhymes and I feel compelled to tell you that it is not intentional, at least not from the egoic Lisa Lyle standpoint.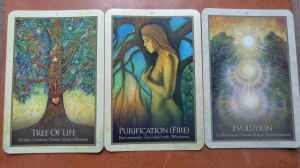 So today I was guided to record an Intuitive Energy update for the coming 3 days, April 23, 24, 25.  I was asked to use the Gaia Oracle to guide the messages that were intended to support us in our physical reality, to feel grounded and more balanced.  The cards that came through were amazing and in the video I intuitively read them and bring forth messages.  Here I am guided to share with you the messages as they are in the guidebook written by Toni Carmine Salerno.  What I love most about this whole process is the fact that the messages I was feeling and bringing forth were pretty much what the guidebook was saying, at times even using the same words and/or phrases.
The first card out was……
#1 – TREE OF LIFE – Fertility, Creativity, Destiny, Magical Blessings
The magical tree depicted in this image is symbolic of your life's journey.  Having matured and grown strong through the changing seasons and cycles of life, you have now reached a stage of creative abundance.  Your roots firmly planted in the fertile soil of your dreams and imagination, you are now ready to fulfil your destiny – a new creative cycle begins; one infused with your love and all the wisdom that you have gained through your life to date. The struggle is over, from now on you will achieve greater results than ever before; and you will do this with grace, poise and ease.  All your past experiences, all the knowledge you have gained and all your previous work now all come together to serve a higher more heartfelt purpose.  This is s period in which you truly are the master of your own destiny; a time where anything you would truly love to achieve or create is possible.    
Affirmation:
I AM THE MASTER OF MY OWN DESTINY
ALL I TRULY DESIRE, I CREATE
ALL I CREATE, I CREATE THROUGH LOVE
ALL I CREATE IS FOR THE HIGHER GOOD OF ALL
I AM TRULY BLESSED AND GRATEFUL FOR ALL THE ABUNDANCE IN MY LIFE
The next card out was…..
#14 – PURIFICATION (FIRE) – Bare essentials, The naked truth, Wholeness
What is it that your heart truly desires?  What do you perceive is missing in your life?  In order to find the answers you must look inside your heart.  You already know this but have been reluctant to look because a part of you fears what your heart is trying to tell you.  The only way forward is to face your fear.  Something in your life is not working out as you would have liked and it's not going to get any better unless you have the courage to face it.  Close your eyes and relax.  Imagine a beautiful flame, warming your heart and soul.  Feel its purifying and healing light burning away your fears and doubts, healing your body and mind and clearing away all obstacles either imagined or real.  Feel your heart centre as an endless space full of only love and light.  Now, what is your heart saying?  When it bring a tear to your eye you will know that it is your truth.  Your soul will guide you toward happiness; all you need to do is follow.  TRUST!!
Affirmation:
I LISTEN TO MY HEART AND FOLLOW ITS GUIDANCE
I DESERVE TO BE HAPPY
I HAVE THE POWER TO CREATE MY REALITY
I TRUST THAT ALL WILL WORK OUT WELL
MY LIFE IS CLEAR OF OBSTACLES
The final card that came to us was…..
#45 – EVOLUTION – Earth Changes, Climate Change, Transformation
Our world is cradled in a cosmic ocean of love; surrounded by an infinite universe, governed by a higher force greater than our human mind can know or comprehend.
We are a forever changing image, forever transforming on our journey through eternity.
Yes, the climate is changing, and yes, the Earth is transforming, but this has always been so and this will always continue.  Are we governed by a will greater than our own or are we architects of our own future?  This we do not know for sure.  But one thing is certain; whether we like it or not our precious planet will continue to transform.  From the stars we are born and to a star we shall transform.  Be mindful of Mother Earth, be considerate and kind to her, but do not fear her changing nature, for just like us, she is transforming to even greater light.
Affirmation:
ALL LOVINGLY UNFOLDS THROUGH TIME AND SPACE
LIFE CONSTANTLY TRANSFORMS, BUT IN ESSENCE NOTHING CHANGES
THERE IS NOTHING TO FEAR, THERE IS ONLY LOVE
I AM ONE WITH THE UNIVERSE AND STARS
LOVE IS MY GUIDING FORCE
Now aren't those magical messages totally in line with all that was previously shared here and in the video message, attached here
https://www.youtube.com/watch?v=dEB3Z3OZudE
What I was also guided to note was the fact that we received the first and the last card in this deck, which speaks to me of the completion of a cycle and a whole new spoke now on The Eternal Wheel of Life.
Thank you for BEing a spoke in my wheel.
Sending you all so much Love, Light, Respect and Gratitude, Namaste, Lisa xo