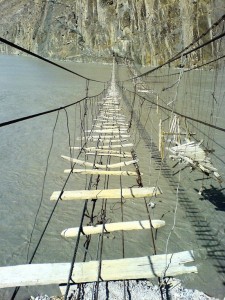 Times of change are sacred and holy.
Although we may not know where we are going and we may feel as if we are on shaky and unstable ground.  We are urged to move forward at this time.  We feel this way because as we transition into the new, the path we walk is unstable, we are unsure of where we are going and why we have to leave where we currently are.  All we can do is to keep moving forward, following the guidance we receive through our hearts.
Many us are being lead right now to bridges we are meant to cross.  You know the one, it is right there in front of you.  For many of us this bridge seems far too unsteady to cross.  It looks like the rope bridge spanning across a deep canyon.  Why we ask would we want to cross that?  It looks like a scary walk and we are frightened by the prospect of having to take it.  Yet, we can find comfort and strength in knowing that this is not a walk we have to take alone.  Our guides and angels are always with us urging us on.  Gently prodding us forward.  We are assured that once across we will enter into another part of our lives.  The next chapter if you will.  We may not understand why we are at this bridge and yet we know deep within us that this is one we must cross.  This change that is occurring within and before us now is exactly what we had hoped and prayed for many times over.
Go on now, be brave and take that walk no matter how unsteadily you do it.  Know that  it is leading you into the new and expanded expression of your life.  Once across that bridge your life will not be the same, and that dear ones is a very good thing indeed.
Love and light to you all.  Namaste, Lisa xo